Announcements & News
Welcome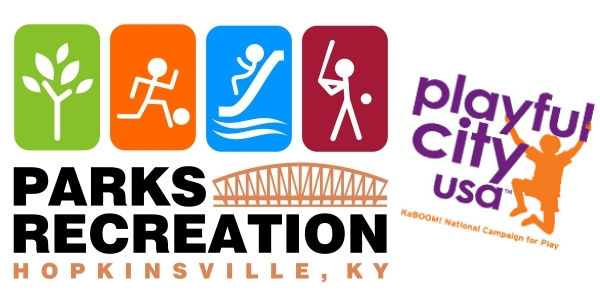 Welcome to the interactive website for the City of Hopkinsville's Division of Parks and Recreation. As the year progresses this site will offer online registration and payment for park-sponsored events and programs, as well as online registration and payment for Parks and Recreation facility rentals. Site users will also be on the front line of parks and recreation update and news.
2020 Hopkinsville Electric Reverse Christmas Parade - Monday, October 26, 2020
Plan to join us on Saturday, December 12, 2020, for the 2020 HES Energy "Reverse" Christmas Parade. Theme will be "Home for the Holidays". All participants in the parade will be lined up along the west side of Main Street and will remain stationary. The public will drive down the east side of Main Street to view the parade participants. If you would like to participate in the parade, please let us know by October 30, 2020, by stopping by our facility, email or phone. You may also go to forms on this website or click read more for the Float or non-float form or rules. Fee to participate $20.00 and a new unwrapped toy. Our Parks and Recreation facility is located at 2600 Thomas Street, email info-parks-and-rec@hopkinsvilleky.us and phone 270-887-4290. Float entry, read more .... , float rules, read more ...., non-float entry, read more...., non-float rules, read more....
Pickleball at the Rec returning June 8, 2020
Pickleball at the Hopkinsville Recreation Department will be returning to Thomas Street Center on June 29, 2020. We will be offering pickle ball on Mondays (9:00am -11:00am, 5:30pm -8:30 pm) and Wednesdays (1:00pm-3:00pm). Due to the restrictions in place because of the pandemic, at this time we will be limited to gatherings of 50 or less.
Important Information: (please read below)
1. limited to gatherings of 50 or less.
2. masks recommended for building guests when entering the building.
3. check-in and temperature checks when entering indoor facilities
5. hand sanitizers available at entrances
6. there is signage with rules and health/sanitary reminders
7. there will be no seating available for spectators during specified times.
8. there will be no access to public water fountains.
9. no equipment will be available for check-out, must bring own equipment.
10. restrooms will be open.
*Revised* 2020 Activities, Events and Programs
*Revised* 2020 Hopkinsville Parks and Recreation Activities, Events and Programs, READ MORE...
2020 Trail of Tears Trick-or-Treat - Monday, October 26, 2020
TRAIL OF TEARS COMMEMORATIVE PARK, DRIVE-THRU TRICK-OR-TREAT, 100 EAST 9th ST., FRIDAY, OCTOBER 30, 2020, 3:30 P.M. – 5:30 P.M.
On Friday, October 30, 2020, a drive-thru "Halloween Scare-A-Van" at Trail of Tears Commemorative Park Trick-or-Treat and will begin at 3:30 p.m. Drive-thru only, must stay in your vehicles and no foot traffic allowed. Downtown merchants and local organizations will be located in the park, giving out candy and goodies until 5:30 p.m. This popular event is sponsored by Hopkinsville Parks and Recreation with companies/organizations safely providing treats and will be set up along the Scare-A-Van route in the park. City of Hopkinsville/Mayor's Office does not traditionally set dates or hours for Treat-or-Treating. Please follow the COVID-19 recommendation issued by Christian County Health Department and Halloween guidelines for this year's activities at kycovid19ky.gov. For additional information, please contact Parks and Recreation, 270-887-4290.