Announcements & News
Welcome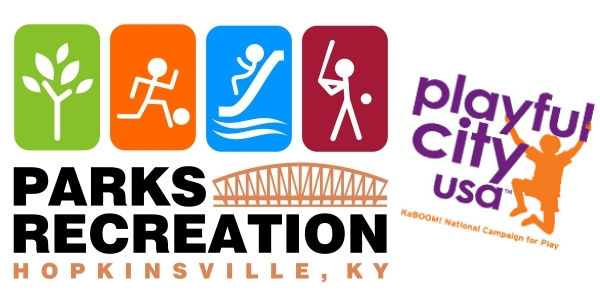 Welcome to the interactive website for the City of Hopkinsville's Division of Parks and Recreation. As the year progresses this site will offer online registration and payment for park-sponsored events and programs, as well as online registration and payment for Parks and Recreation facility rentals. Site users will also be on the front line of parks and recreation update and news.
Skatin' On the Square Starts Saturday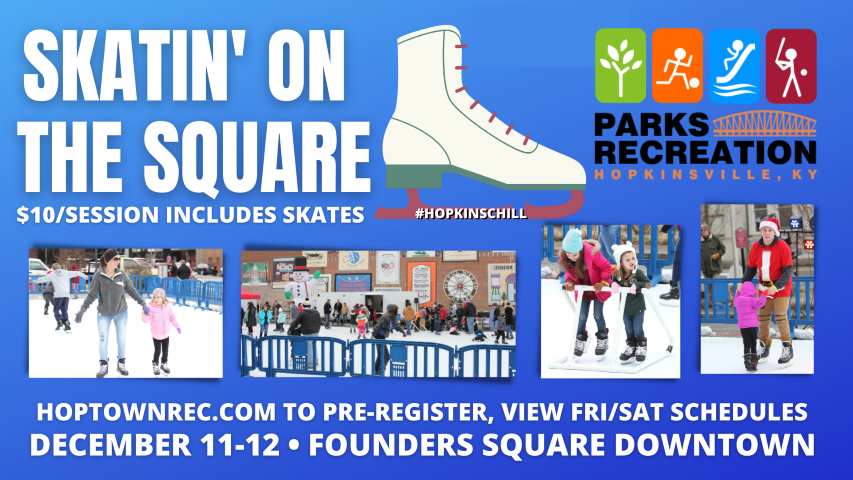 Ice skating time returns this weekend in Hoptown after pausing a year for COVID. The popular Skatin' On the Square returns this Saturday-Sunday (Dec. 11-12) at Founders Square. Cost is just $10 for a 90-minute session, which includes skates. And, a limited supply of "skating assist" walkers, made from PVC plastic pipe, are available for beginners. Credit cards are accepted for online and in-person registration.
Through Thursday night you can reserve your guaranteed spot in one of the eight sessions by
clicking HERE.
We encourage you to sign up in advance if you are bringing a group to skate or want to make sure you have the exact time. Walk-up spots will also be available for all time spots. Saturday sessions are set for 1:00, 2:30, 7:00 and a
late skate at 8:30 pm. Sunday skating times are 1:00, 2:30, 4:00, and
5:30 pm.
Make it a full weekend of #HopkinsChill fun by skating before or after the HES Christmas Parade. If you have questions, call the Parks and Rec office at 270-887-4290. To check on availability on Saturday or Sunday call 270-348-2664.
HES/energynet Hoptown Christmas Parade Is Saturday Night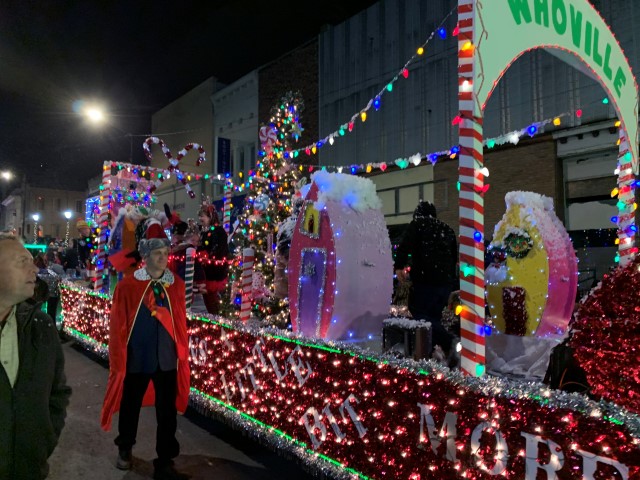 The HES/energynet Christmas Parade is ready to dazzle downtown Hopkinsville with the lights, sounds and excitement of the holiday season this Saturday night (Dec. 11) starting at 5:15 pm. Over 80 units will roll down Main Street from Glass Avenue to 13th Street to the delight of thousands of spectators.
This year's parade theme is "Home for the Holidays" paying tribute to First- and Front-Line Responders as Grand Marshals. Representatives from the Hopkinsville Fire Department, Hopkinsville Police Department, Christian County Sheriff Department, Jennie Stuart Health, Emergency Management and the Christian County Health Department will ride the honor fire truck as Grand Marshals. These individuals and their respective organizations are deserving of everyone's thanks for their tireless work during the pandemic over the last 18 months.
In addition to cash awards for the floats, WKDZ/WHVO are also sponsoring a "People's Choice" award. Spectators can vote by texting their favorite float number to 270-522-1212 through midnight on Saturday night.