Announcements & News
Welcome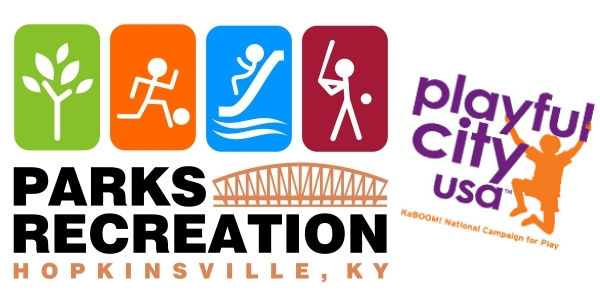 Welcome to the interactive website for the City of Hopkinsville's Division of Parks and Recreation. As the year progresses this site will offer online registration and payment for park-sponsored events and programs, as well as online registration and payment for Parks and Recreation facility rentals. Site users will also be on the front line of parks and recreation update and news.
DEADLINE IS FRIDAY FOR CHRISTMAS PARADE ENTRIES
Friday, December 2 is the deadline for entering units in the 2022 HES Hopkinsville Christmas Parade. Please call the Parks office at 270-887-4290 to register or stop by. The parade, which starts at 5:15 pm on December 10, runs south on Main Street from Glass Avenue to 15th Street. Entry fee is $20, plus a new unwrapped toy. It's not too late! Get your club, church, business or group registered for the fun!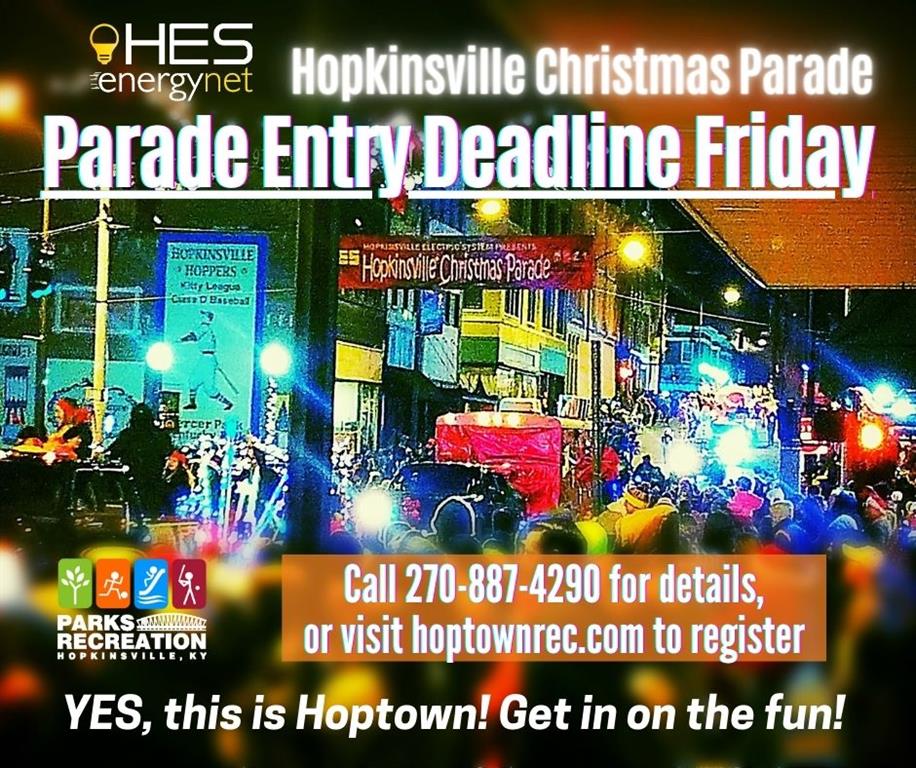 PARKS AND REC ACCEPTING APPLICATIONS FOR MARKEITNG/EVENTS COORDINATOR
The City is hiring for the position of Marketing/Events Coordinator. The position works primarily with Parks and Recreation, but serves other departments as requested. The job is posted for online through December 16. CLICK HERE for direct link to online application.
MARKETING/EVENTS COORDINATOR
Salary
$45,165 - $59,291 a year
Job Description
Under administrative direction of the Division of Parks and Recreation (DPR), plan, coordinate, and market various City facilities & events including the Planters Bank-Jennie Stuart Health Sportsplex, Tie Breaker Family Aquatic Center, Tie Breaker Park tournaments, skate park, dog park, parades, special events and other related activities. Cultivate and expand sponsorship development and fulfillment. Assist with negotiation for vendor/space contracts and book event space for City recreation facilities. Requires a Bachelor's degree in Marketing, Public Relations, or related degree and two year's marketing, public relations, special events, or related field. An equivalent combination of education and/or experience may be considered. Must have extensive knowledge of Microsoft Word, Excel, PowerPoint, Canva and graphics development skills utilizing social media including Facebook, Twitter, Instagram, and Snapchat.

Excellent benefits include health, dental, vision, & life insurance. 12 paid vacation days, 12 paid sick days, and 11 paid holidays per year are offered. Federal Student Loan Forgiveness Program available for eligible employees.
THE CITY OF HOPKINSVILLE IS AN EQUAL OPPORTUNITY EMPLOYER.