Announcements & News
Welcome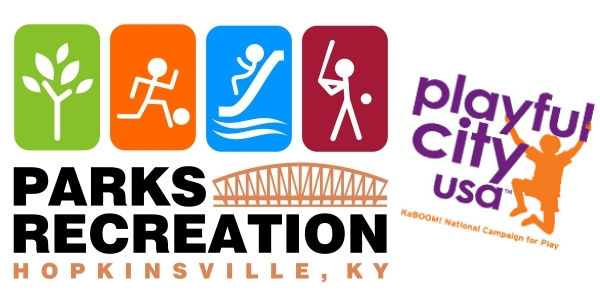 Welcome to the interactive website for the City of Hopkinsville's Division of Parks and Recreation. As the year progresses this site will offer online registration and payment for park-sponsored events and programs, as well as online registration and payment for Parks and Recreation facility rentals. Site users will also be on the front line of parks and recreation update and news.
Pickleball at the Rec returning June 8, 2020
Pickleball at the Hopkinsville Recreation Department will be returning to Thomas Street Center on June 29, 2020. We will be offering pickle ball on Mondays (9:00am -11:00am, 5:30pm -8:30 pm) and Wednesdays (1:00pm-3:00pm). Due to the restrictions in place because of the pandemic, at this time we will be limited to gatherings of 50 or less.
Important Information: (please read below)
1. limited to gatherings of 50 or less.
2. masks recommended for building guests when entering the building.
3. check-in and temperature checks when entering indoor facilities
5. hand sanitizers available at entrances
6. there is signage with rules and health/sanitary reminders
7. there will be no seating available for spectators during specified times.
8. there will be no access to public water fountains.
9. no equipment will be available for check-out, must bring own equipment.
10. restrooms will be open.
*Revised* 2020 Activities, Events and Programs
*Revised* 2020 Hopkinsville Parks and Recreation Activities, Events and Programs, READ MORE...
2020 Movies in the Park Flyer - Monday, July 27, 2020
5th Annual Summer Salute Cancelled Due to COVID-19
(May 5, 2020) With public health and safety at the forefront of the decision, the Hopkinsville Parks and Recreation Department announces the cancellation of the City's upcoming 5th Annual Summer Salute Festival.
The battle against the COVID-19 outbreak has generated state and national public restrictions for gatherings that underscore the difficulty of safely bringing together 30,000 people who were anticipated for this year's celebration.
Scheduled for Aug. 28-29, 2020 in downtown Hoptown, Summer Salute is a two-day music festival with food and craft vendors, rides, multiple stages of musical genres and a slew of other free activities. The event caps off with a national musical artist on Saturday night, as thousands of families and fans stream into downtown to play, eat, relax and enjoy all types of music.
This year's cancellation is particularly difficult, given that Summer Salute was recently selected as a Southeast Tourism Society (STS) Top 20 Festival & Event winner for August 2020. STS, which covers a 13-state region, is a non-profit organization that advocates for and promotes tourism in the Southeastern United States.
Like all major festivals, Summer Salute requires performance and service contracts with financial agreements that require advance deposits. With the uncertainty surrounding where our region will be with public health restrictions in late summer, the prudent financial decision also clearly pointed to cancelling the event known as "the largest party of the summer."
"Everyone shares in our disappointment about canceling Summer Salute," said Parks and Recreation Superintendent Tab Brockman. "The festival has grown to be Hopkinsville's largest single entertainment event with help from so many city and county agencies, sponsors, and other groups working together to make it happen. Our Parks and Rec team has worked hard building the annual event and really enjoys seeing the smiles as our community has fun over the two days of the festival.
"We intend to bring Summer Salute back bigger and better than ever in 2021," he continued. "Thanks to the continued commitment of our community sponsors, there were new additions planned for this year's festival that we'll have to unveil next summer. We are already working with this year's fabulous Saturday night act and hope to know soon if we can get them booked as the headliner for next year's festival."
Full refunds will be issued to all vendors already signed up for this Summer Salute. Call the Parks and Recreation office at 270-887-4290.